Hyundai Sonata: Description and Operation
Operation
Concentric Slave Cylinder-C.S.C
When the clutch pedal is pressed, oil pressure is transmitted along the arrow directions shown below and that moves the clutch slave cylinder and the diaphragm spring of the clutch cover.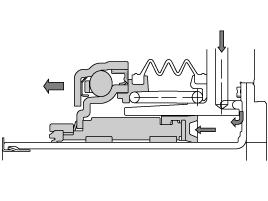 Clutch Pedal Inspection And Adjustment 1. Measure the clutch pedal height (from the face of the pedal pad to the floorboard) and the clutch pedal clevis pin play (measured ...
See also:
Good driving practices
Never move the gear shift lever from P (Park) or N (Neutral) to any other position with the accelerator pedal depressed. Never move the gear shift lever into P (Park) when the vehicle is in mo ...
Driving in the rain
Rain and wet roads can make driving dangerous, especially if you're not prepared for the slick pavement. Here are a few things to consider when driving in the rain: A heavy rainfall will make it ...
Electric power steering (EPS)
The power steering uses a motor to assist you in steering the vehicle. If the engine is off or if the power steering system becomes inoperative, the vehicle may still be steered, but it will requi ...