Hyundai Sonata: Description and Operation
Operation
Concentric Slave Cylinder-C.S.C
When the clutch pedal is pressed, oil pressure is transmitted along the arrow directions shown below and that moves the clutch slave cylinder and the diaphragm spring of the clutch cover.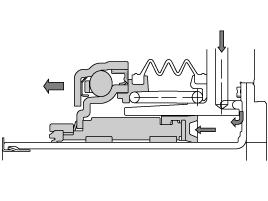 Clutch Pedal Inspection And Adjustment 1. Measure the clutch pedal height (from the face of the pedal pad to the floorboard) and the clutch pedal clevis pin play (measured ...
See also:
Variable Intake Solenoid (VIS) Valve. Schematic Diagrams
Circuit Diagram ...
License plate light bulb replacement
1. Loosen the retaining screws with a philips head screwdriver. 2. Remove the soket by turning it connterclockwise. 3. Remove the bulb by pulling it straight out. 4. Install a new bulb. 5. Rei ...
Sunroof
If your vehicle is equipped with a sunroof, you can slide or tilt your sunroof with the sunroof control switch located on the overhead console. The sunroof can only be opened, closed, or tilted ...