Hyundai Sonata YF 2011-2014 Service Manual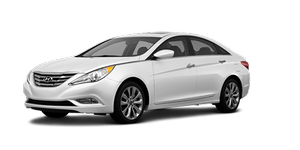 Worksop manual for sixth generation (YF) Hyundai Sonata, model years 2011–2014. The 2011 Hyundai Sonata is a midsize family sedan available in GLS, SE and Limited trim levels. All Sonatas come well stocked with antilock brakes, traction control, stability control, front seat side-impact airbags, full-length side curtain airbags and active front head restraints.
See also:
Engine Control Module (ECM) Schematic Diagrams
ECM Terminal And Input/Output signal ECM Terminal Function Connector [C500-A] Pin No.DescriptionConnected to1Injector (Cylinder #3) [High] control outputInjector (Cylinder #3)2Injector (Cylinde ...
Timing Chain Repair procedures
Removal 1. Turn the crankshaft pulley clockwise, and align its groove with the timing mark of the timing chain cover. 2. Remove the timing chain cover. (Refer to Timing System - "Timing Chain ...
Movable Glass Repair procedures
Replacement 1. Completely open the movable glass using the panorama sunroof switch. 2. Remove both sides of the decoration cover (A). 3. Completely close the movable glass using the panora ...