Hyundai Sonata: Injector. Description and Operation
Description
Based on information from various sensors, the ECM can calculate the fuel amount to be injected. The fuel injector is a solenoid-operated valve and the fuel injection amount is controlled by length of injection time. The ECM controls each injector by grounding the control circuit. When the ECM energizes the injector by grounding the control circuit, the circuit voltage should be low (theoretically 0V) and the fuel is injected. When the ECM de-energizes the injector by opening control circuit, the fuel injector is closed and circuit voltage should momentarily peak, and then settle at system voltage.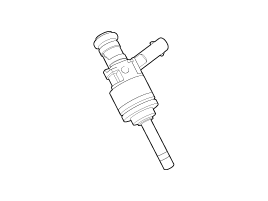 Inspection 1. Connect the GDS on the Data Link Connector (DLC). 2. Measure the output voltage of the FTPS. Specifica ...
Specification Item Specification Coil Resistance (Ω) 1.18 ~ 1.31 [20°C(68°F)] ...
See also:
HD radio
Listening to HD Radio Stations HD Radio Technology is a digital radio technology used by AM and FM radio station to transmit audio and data via a digital signal in conjunction with their analog ...
Specifications
Specifications Ignition System Items Specifications Ignition coil Primary resistance 0.62 ± 10 % (Ω) Secondary ...
Description and Operation
Warning Lamp Activation Warning Lamp Behavior after Ignition On As soon as the operating voltage is applied to the SRSCM ignition input, the SRSCM activates the warning lamp fo ...