Hyundai Sonata: Manifold Absolute Pressure Sensor (MAPS). Description and Operation
Description
Manifold Absolute Pressure Sensor (MAPS) is a speed-density type sensor and is installed on the surge tank. It senses absolute pressure of the surge tank and transfers the analog signal proportional to the pressure to the ECM. By using this signal, the ECM calculates the intake air quantity and engine speed.
The MAPS consists of a piezo-electric element and a hybrid IC amplifying the element output signal. The element is silicon diaphragm type and adapts pressure sensitive variable resistor effect of semi-conductor. Because 100% vacuum and the manifold pressure apply to both sides of the sensor respectively, this sensor can output analog signal by using the silicon variation proportional to pressure change.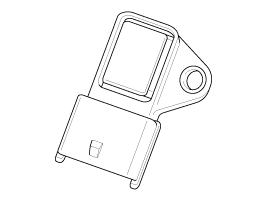 Inspection Throttle Position Sensor (TPS) 1. Connect the GDS on the Data Link Connector (DLC). 2. Start the engine and measure the output v ...
Specification Pressure [kPa (kgf/cm², psi)] Output Voltage (V) 20.0 (0.20, 2.9) 0.79 46.7 (0.47, 6.77) 1.84 ...
See also:
Interior light
CAUTION Do not use the interior lights for extended periods when the engine is not running. It may cause battery discharge. WARNING Do not use the interior lights when driving in the dark. Accide ...
Antenna. Repair procedures
Inspection Glass Antenna Test 1. Wrap aluminum foil (A) around the tip of the tester probe (B) as shown. 2. Touch one tester p ...
Repair procedures
Inspection Lighting Switch Inspection With the multifunction switch in each position, make sure that continuity exists between the terminals below. If continuity is not as specified, replac ...