Hyundai Sonata: Schematic Diagrams
System Block Diagram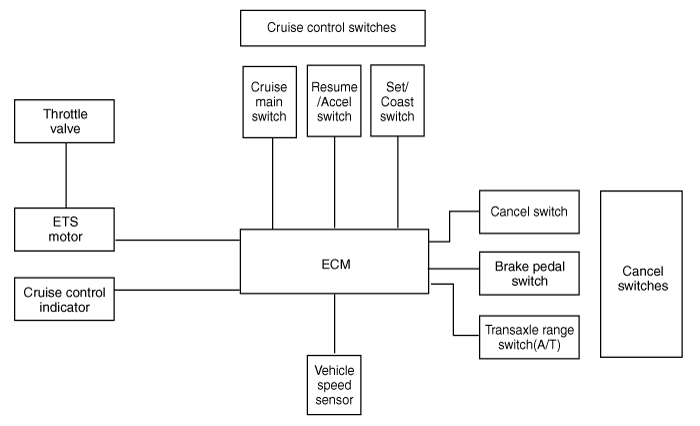 Component Parts And Function Outline
Component part




Function




Vehicle speed sensor




Converts vehicle speed to pulse.




ECM




Receives signals from sensor and control switches.




Cruise control indicator




Illuminate when CRUISE main switch is ON (Built into cluster)




Cruise control switches




ON/OFF switch




Switch for automatic speed control power supply.




Resume/Accel switch




Controls automatic speed control functions by Resume/Accel switch (Set/Coast switch)




Set/Coast switch




Cancel switches




Cancel switch




Sends cancel signals to ECM.




Brake pedal switch




Transaxle range switch (A/T)




ETS motor




Regulates the throttle valve to the set opening by ECM.



* ETS : Electronic Throttle System
Cruise Control The cruise control system is engaged by the cruise "ON/OFF" main switch located on right of steering wheel column. The system has the capability to cruise, coast, ac ...
See also:
Driving off-road
Drive carefully off-road because your vehicle may be damaged by rocks or roots of trees. Become familiar with the off-road conditions where you are going to drive before you begin driving. ...
Window opening and closing
To open or close a window, press down or pull up the front portion of the corresponding switch to the first detent position (5). ...
Body Control Module (BCM). Specifications
Specifications Items Specifications Rated voltage DC 12V Operating voltage DC 9 ~ 16V Operating temp ...