Hyundai Sonata: Description and Operation
Description
The starting system includes the battery, starter, solenoid switch, ignition switch, inhibitor switch (A/T), clutch pedal switch (M/T), ignition lock switch, connection wires and the battery cable.
When the ignition key is turned to the start position, current flows and energizes the starter motor's solenoid coil.
The solenoid plunger and clutch shift lever are activated, and the clutch pinion engages the ring gear.
The contacts close and the starter motor cranks. In order to prevent damage caused by excessive rotation of the starter armature when the engine starts, the clutch pinion gear overruns.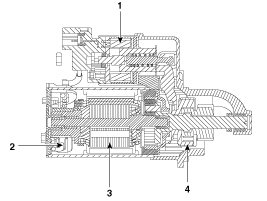 1.Solenoid
2.Brush assembly
3.Armature
4.Overrun clutch
Starter Circuit Troubleshooting The battery must be in good condition and fully charged. 1. Discon ...
See also:
Turn by Turn
The Turn by Turn feature can be used through Blue Link. 1. Direction Indicator Image 2. Remaining distance until next point 3. The Count bar is divided into a total of 9 levels. 4. Current Str ...
Closing the hood
1. Before closing the hood, check the following: All filler caps in engine compartment must be correctly installed. Gloves, rags or any other combustible material must be removed from the eng ...
Start/Stop Button. Components and Components Location
Component ...