Hyundai Sonata: Turn by Turn
The Turn by Turn feature can be used through Blue Link.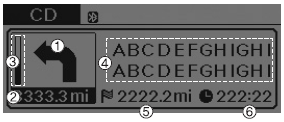 1. Direction Indicator Image
2. Remaining distance until next point
3. The Count bar is divided into a total of 9 levels.

4. Current Street name
5. Distance to destination
6. Expected Time Arrival
❈ For information on specific Blue Link operations, please refer to a separate manual.