Hyundai Sonata: Auto Light Switch. Repair procedures
Inspection
Lighting Switch Inspection
With the multi function switch in each position, make sure that continuity exists between the terminals below. If continuity is not as specified, replace the multi-function switch.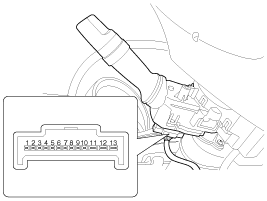 Lighting Switch (Auto Light)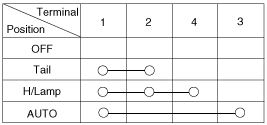 Inspection In the state of IGN1 ON, when multi function switch module detects auto light switch on, tail lamp relay output and head lamp low relay output are controlled according to auto lig ...
See also:
Do not use methanol
Fuels containing methanol (wood alcohol) should not be used in your vehicle. This type of fuel can reduce vehicle performance and damage components of the fuel system. CAUTION Your New Vehicle L ...
Trunk lamp
The trunk room lamp comes on when the trunk is opened. CAUTION The trunk lamp comes on as long as the trunk lid is open. To prevent unnecessary charging system drain, close the trunk lid secur ...
License Lamp. Repair procedures
Removal 1. Disconnect the negative(-) battery terminal. 2. Remove the lens (A) after loosening the mounting screws. ...