Hyundai Sonata: Battery Sensor. Description and Operation
Description
Vehicles have many control units that use more electricity. These units control their own system based on information from diverse sensors. It is important to have a stable power supply as there diverse sensors giving a variety of information. Battery sensor is mounted on battery (-) terminal. It transmits battery voltage, current, temperature information to ECM. ECM controls generating voltage by duty cycle based on these signals.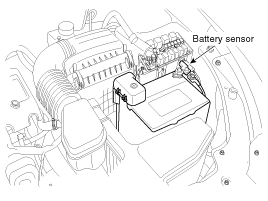 When battery sensor signal fault occurs, inspect the vehicle parasitic draw in advance after inspecting the sensor because the sensor will behave abnormally when the parasitic draw is more than 100mA. (Refer to vehicle parasitic current inspection)
Perform the following process after replacing the battery sensor.
| | |
| --- | --- |
| 1. | |
| | |
| --- | --- |
| 2. | Park the vehicle about 4 hours. |
| | |
| --- | --- |
| 3. | After 4 hours later, check the SOC (State of charge) of battery using GDS. |
For the vehicle equipped with a battery sensor, be careful not to damage the battery sensor when the battery is replaced or recharged.
| | |
| --- | --- |
| 1. | When replacing the battery, it should be same one (type, capacity and brand) that is originally installed on your vehicle. If a battery of a different type is replaced, the battery sensor may recognize the battery to be abnormal. |
| | |
| --- | --- |
| 2. | When installing the ground cable on the negative post of battery, tighten the clamp with specified torque of 4.0~6.0N.m (0.4~0.6kgf.m, 3.0~4.4lb-ft). An excessive tightening torque can damage the PCB internal circuit and the battery terminal. |
| | |
| --- | --- |
| 3. | When recharging the battery, ground the negative terminal of the booster battery to the vehicle body. If the negative cable from a battery charger is connected to the negative terminal of the battery, the battery sensor can make an error. In this case, repeat the above process for battery sensor replacement (1~3) after disconnecting and reconnecting the battery connector. |
Removal and Installation 1. Disconnect the terminals from the battery. Tightening torque : (+) terminal (A) : 7.8 ~ 9.8N.m (0.8 ~ 1.0kgf. ...
See also:
Vehicle weight
This section will guide you in the proper loading of your vehicle, to keep your loaded vehicle weight within its design rating capability. Properly loading your vehicle will provide maximum return ...
Tire traction
Tire traction can be reduced if you drive on worn tires, tires that are improperly inflated or on slippery road surfaces. Tires should be replaced when tread wear indicators appear. To reduce the ...
Power brakes
Your vehicle has power-assisted brakes that adjust automatically through normal usage. In the event that the power-assisted brakes lose power because of a stalled engine or some other reason, you ...