Hyundai Sonata: Body Control Module (BCM). Schematic Diagrams
BCM Connector Terminals
BCM Input Signal SPEC
No




Input signal name




Logic state




ON/OFF voltage




recognition level (V)




Remarks




A01




B+




ON = Battery




9V ~ 16V







A02




IGN1




ON = Battery (IGN KEY is ON or START position)




7V or more / 4V or less







A03




IGN2




ON = Battery




(IGN KEY is ON position)




7V or more / 4V or less







A04




Brake switch




ON = Battery (Starting state)




7V or more / 4V or less







A05




Mist switch




ON = Battery




7V or more / 4V or less







A06




Crash unlock input




-




-




PWM




A07




Head lamp low switch




OPEN = GND




2V or less / OPEN




(Reference value:4V or more)







A08




Head lamp high switch




OPEN = GND




2V or less / OPEN




(Reference value:4V or more)







B03




Front fog lamp switch




OPEN = GND




2V or less / OPEN




(Reference value:4V or more)







A13




ACC




ON = Battery




7V or more / 4V or less







A16




INH 'R' switch




ON = Battery




7V or more / 4V or less







A18




Wiper INT volume




-




-




A/D




A23




Key inter lock switch




ON = GND




2V or less / OPEN




(Reference value:4V or more)







A21




Key in switch




ON = GND




2V or less / OPEN




(Reference value:4V or more)







A22




Tail lamp switch




ON = GND




2V or less / OPEN




(Reference value:4V or more)







B01




LIN (RPAS)




-




-




Communi




cation




B11




Auto light signal




-




-




A/D




B13




Auto light switch




ON = GND




2V or less / OPEN




(Reference value:4V or more)







B14




Diagnosis (K-Line)




-




-




Communi




cation




B15




Rear defogger switch




ON = GND




2V or less / OPEN




(Reference value:4V or more)






Pin Arrangement

Connector A
No.




Signal Label




Signal Definition




A01




B+




Battery




A02




IGN1




Local ignition1 input in BCM




A03




IGN2




Local ignition2 input in BCM




A04




Brake switch




Brake switch




A05




Mist switch




Mist switch




A06




Crash unlock input




(PWM)




Crash unlock input from airbag




A07




Head lamp low switch




Head lamp low switch




A08




Head lamp high switch




Head lamp high switch




A09




-




-




A10




-




-




A11




-




-




A12




-




-




A13




ACC




Local ACC input in BCM




A14




-




-




A15




-




-




A16




INHIBIT 'R' switch




INHIBIT 'R' switc-h-




A17




Washer switch




Washer switch




A18




Wiper INT switch




Wiper INT switch




A19




-




-




A20




Wiper INT volume




Wiper INT volume




A21




Key in switch




Key in switch




A22




Tail lamp switch




Tail lamp switch




A23




Key inter lock switch




Key inter lock switch




A24




GND (Signal)




Signal ground



Connector B
| | | |
| --- | --- | --- |
| No. | Signal Label | Signal Definition |
| B01 | LIN (RPAS) | LIN Communication |
| B02 | - | - |
| B03 | Front fog lamp switch | Front fog lamp switch |
| B04 | Parking brake switch | Parking brake switch |
| B05 | - | - |
| B06 | - | - |
| B07 | AV tail | AV tail |
| B08 | CAN high | CAN high |
| B09 | CAN low | CAN low |
| B10 | GND (Auto light) | Auto light ground |
| B11 | Auto light signal | Auto light signal |
| B12 | Auto light power | Auto light power |
| B13 | Auto light switch | Auto light switch |
| B14 | Diagnosis (K-Line) | K-line communication |
| B15 | Defogger switch | Defogger switch |
| B16 | Assist seat belt indicator LED | Assist seat belt indicator LED |
| B17 | Security indicator LED | Security indicator LED |
| B18 | - | - |
| B19 | Head lamp low signal | Head lamp low signal |
| B20 | Speed IMS | Speed state to IMS |
Connector C
No.




Signal Label




Signal Definition




C01




Safety power window enable high




Safety power window enable high




C02




Key in state IMS




Key in state to IMS




C03




-




-




C04




Room lamp




Room lamp




C05




-




-




C06




Key SOL




Key solenoid




C07




ATM SOL




ATM solenoid




C08




Glove box switch




Glove box switch




C09




Key hole illumination




Lamp LED




Key hole illumination




Lamp LED




C10




-




-




C11




Glove box lamp




Glove box lamp




C12




-




-




C13




-




-




C14




Wiper relay




Wiper relay




C15




-




-




C16




Head lamp washer relay




Head lamp washer relay




C17




-




-




C18




GND (POWER)




Power ground



Circuit Diagram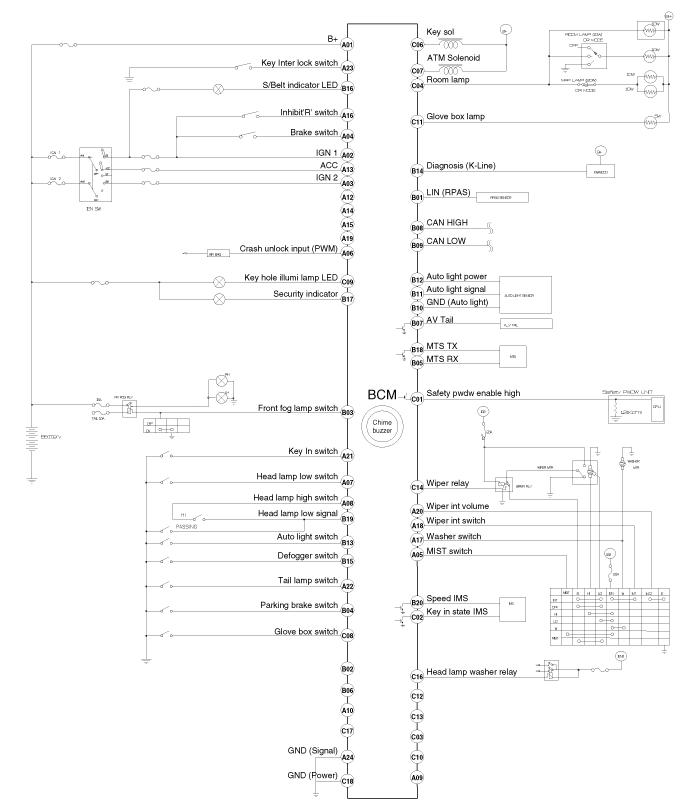 Description Body control module receives various input switch signals controlling time and alarm functions for the intermittent wiper timer, washer timer, rear defogger timer, seat belts ...
See also:
Multimedia jack. Repair procedures
Removal 1. Remove the shift lever knob. (Refer to the BD group - "Console") 2. Remove the console upper cover (A). ...
Steering wheel audio control
The steering wheel may incorporate audio control buttons. CAUTION Do not operate audio remote control buttons simultaneously. 1. VOLUME (VOL+/-) Push the lever upward (+) to increase the volu ...
Front Seat Belt Buckle Repair procedures
Replacement 1. Remove the front seat assembly. (Refer to Front Seat - "Front Seat Assembly") 2. Remove the front seat belt buckle connector wiring harness (A). 3. After loosening the moun ...