Hyundai Sonata: Description and Operation
Description
The starting system includes the battery, starter, solenoid switch, ignition switch, inhibitor switch (A/T), clutch pedal switch (M/T), ignition lock switch, connection wires and the battery cable.
When the ignition key is turned to the start position, current flows and energizes the starter motor's solenoid coil.
The solenoid plunger and clutch shift lever are activated, and the clutch pinion engages the ring gear.
The contacts close and the starter motor cranks. In order to prevent damage caused by excessive rotation of the starter armature when the engine starts, the clutch pinion gear overruns.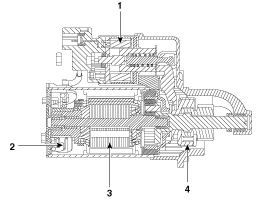 1.Solenoid
2.Brush assembly
3.Armature
4.Overrun clutch
Starter Circuit Troubleshooting The battery must be in good condition and fully charged. 1. Discon ...
See also:
Rear Lower Arm. Repair procedures
Removal 1. Remove the rear wheel & tire. Tightening torque: 88.3 ~ 107.9 N.m (9.0 ~ 11.0 kgf.m, 65.1 ~ 79.6 lb-ft) ...
Multimedia jack. Description and Operation
Description The multimedia jack on the console upper cover is for customers who like to listen to external portable music players like the MP3, iPod and etc., through the vehicle's sound ...
To turn cruise control off, do one of the following
Push the cruise ON/OFF button (the CRUISE indicator light in the instrument cluster will go off). Turn the ignition off. Both of these actions cancel cruise control operation. If you wa ...