Hyundai Sonata: Description and Operation
Description
The starting system includes the battery, starter, solenoid switch, ignition switch, inhibitor switch (A/T), clutch pedal switch (M/T), ignition lock switch, connection wires and the battery cable.
When the ignition key is turned to the start position, current flows and energizes the starter motor's solenoid coil.
The solenoid plunger and clutch shift lever are activated, and the clutch pinion engages the ring gear.
The contacts close and the starter motor cranks. In order to prevent damage caused by excessive rotation of the starter armature when the engine starts, the clutch pinion gear overruns.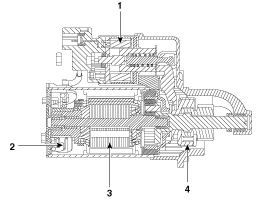 1.Solenoid
2.Brush assembly
3.Armature
4.Overrun clutch
Starter Circuit Troubleshooting The battery must be in good condition and fully charged. 1. Discon ...
See also:
Floor mat anchor(s)
When using a floor mat on the front floor carpet, make sure it attaches to the floor mat anchor(s) in your vehicle. This keeps the floor mat from sliding forward. WARNING The following must be ...
Headlight, position light, turn signal light, side marker light and front fog light bulb replacement
(1) Headlight (High) (2) Headlight (Low) (3) Front turn signal light / Position light (4) Front fog light (if equipped) Headlight bulb WARNING - Halogen bulbs Halogen bulbs contain pr ...
Tire traction
Tire traction can be reduced if you drive on worn tires, tires that are improperly inflated or on slippery road surfaces. Tires should be replaced when tread wear indicators appear. To reduce the ...