Hyundai Sonata: HD Radio information
Licensing information

HD RadioTM Technology Manufactured Under License From iBiquity Digital Corporation. U.S. and Foreign Patents. HD RadioTM and the HD and HD Radio logos are proprietary trademarks of iBiquity Digital Corporation.
Availability information
HD RadioTM reception is available in the United States, including Alaska and Hawaii.
What is HD RadioTM technology?
The vehicle audio system (if equipped) is able to receive standard analog FM/AM radio broadcasting as well as digital HD RadioTM FM/AM broadcasting.
HD RadioTM technology provides digital and analog reception using existing FM and AM broadcasting frequencies.
Currently, radio stations broadcasting an HD RadioTM signal are operating in a hybrid mode of both, analog and digital, in order to reach both receivers. In both modes, analog and digital, the broadcasted program contents is the same(except of multicasting, see below).
Eventually, as analog receivers are replaced by digital ones, radio stations may be able to turn off their analog broadcasting and use only digital broadcasting.
Multicasting
HD RadioTM FM stations are able to broadcast multiple digital program streams(channels) over a single FM frequency. For example, a HD RadioTM FM station can run a main channel of music and a sub channel of news(or even two different music channels) at one frequency.
But only the program content of the main channel is broadcasted in analog.
HD Radio signal delay
To overcome the delay that digital systems inherently produce, HD RadioTM technology first uses the audio signal of the analog broadcasting when you tune to an AM station or to the main channel of a FM station. After that, the system will blend from analog to digital signal.
Normally, this blending is very smooth. If you experience a skip in program content of several seconds, the radio station has not implemented HD RadioTM broadcasting correctly. This is not a problem with your audio system.
Due to the fact that sub channels are only broadcasting digital, blending from analog to digital signal is not possible if you tune to a sub channel. In this case playback of the sub channel starts after several seconds, this is a normal function.
Automatic switching between digital and analog broadcasting
If the reception of the digital signal is lost, the system switches automatically to the analog signal. As soon as the digital signal is available again, it will switch back.
Due to the fact that sub channels are only broadcasted digital, the system mutes playback if you have tuned to a sub channel and the digital signal is lost. The main line will shows the message No HD signal in place of station name. After approximately one minute with the digital signal lost, the system will automatically tune to the analog signal of the corresponding frequency.
Text based information
HD Radio stations are able to broadcast text based information, e.g. station name, song title and artist name. The Driver Information System is able to display this information.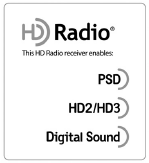 Х Digital, CD-quality sound. HD Radio Technology enables local radio stations to broadcast a clean digital signal. AM sounds like todayТs FM and FM sounds like a CD.

Х Program Service Data : Contributes to the superior user experience of HD Radio Technology. Presents song name, artist, station IDs, HD2/HD3 Channel Guide, and other relevant data stream.
Radio display while receiving a digital HD Radio

1.Call Sign(Station Name)
2.Channel Name (HD1=main channel, HD2~8=sub channel)
3. Indicator for HD RadioTM