Hyundai Sonata: Multimedia jack. Description and Operation
Description
The multimedia jack on the console upper cover is for customers who like to listen to external portable music players like the MP3, iPod and etc., through the vehicle's sound system when it is linked to this jack. The customer has this added option.
In case of distortions from media connected to the AUX source, the audio unit may not be defective but the output level of the used media does not match the specification of the AUX input.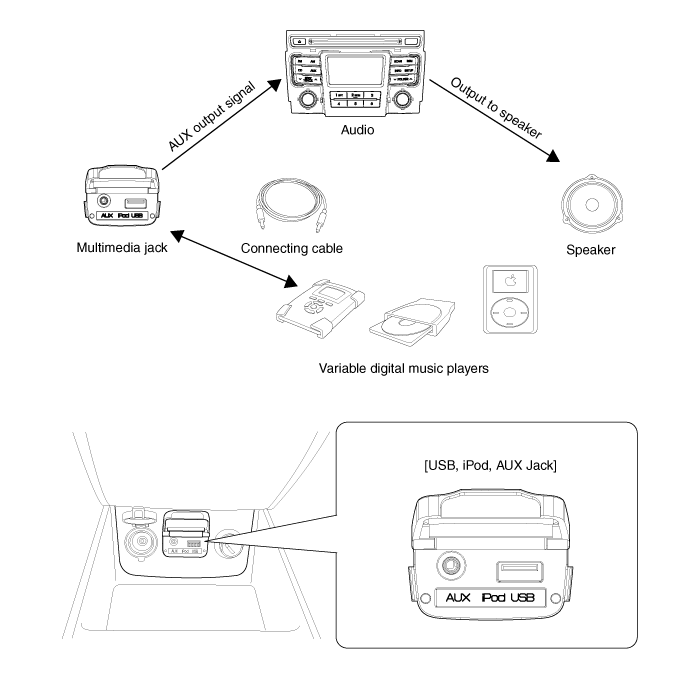 Removal 1. Remove the shift lever knob. (Refer to the BD group - "Console") 2. Remove the console upper cover (A). ...
See also:
Engine Control Module (ECM) Schematic Diagrams
ECM Terminal And Input/Output signal ECM Terminal Function Connector [C500-A] Pin No.DescriptionConnected to1Injector (Cylinder #3) [High] control outputInjector (Cylinder #3)2Injector (Cylinde ...
Description and Operation
Description The immobilizer system will disable the vehicle unless the proper ignition key is used. In addition to the currently available anti-theft systems such as car alarms, the immobili ...
Towing
General Information If the vehicle needs to be towed, call a professional towing service. Never tow vehicle with just a rope or chain. It is very dangerous. Emergency Towing There are three ...