Hyundai Sonata: Rail Pressure Sensor (RPS). Description and Operation
Description
Rail Pressure Sensor (RPS) is installed on the delivery pipe and measures the instantaneous fuel pressure in the delivery pipe. The sensing element (Semiconductor element) built in the sensor converts the pressure to voltage signal. By using this signal, the ECM can control correct injection amount and timing and adjusts the fuel pressure with the fuel pressure regulator valve if the target pressure and the actual pressure calculated by the RPS output signal are different.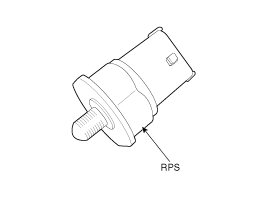 Inspection 1. Turn the ignition switch OFF. 2. Disconnect the HO2S connector. 3. Measure resistance between th ...
See also:
Repair procedures
Clutch Pedal Inspection And Adjustment 1. Measure the clutch pedal height (from the face of the pedal pad to the floorboard) and the clutch pedal clevis pin play (measured ...
OFF mode
Push the OFF button to turn off the air climate control system. However, you can still operate the mode and air intake buttons as long as the ignition switch is in the ON position. The vented ...
Seat Heater. Schematic Diagrams
Circuit Diagram ...