Hyundai Sonata: Rail Pressure Sensor (RPS). Description and Operation
Description
Rail Pressure Sensor (RPS) is installed on the delivery pipe and measures the instantaneous fuel pressure in the delivery pipe. The sensing element (Semiconductor element) built in the sensor converts the pressure to voltage signal. By using this signal, the ECM can control correct injection amount and timing and adjusts the fuel pressure with the fuel pressure regulator valve if the target pressure and the actual pressure calculated by the RPS output signal are different.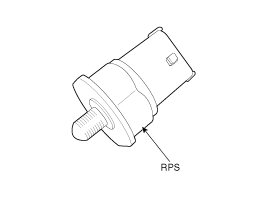 Inspection 1. Turn the ignition switch OFF. 2. Disconnect the HO2S connector. 3. Measure resistance between th ...
See also:
Radial-ply tires
Radial-ply tires provide improved tread life, road hazard resistance and smoother high speed ride. The radial- ply tires used on this vehicle are of belted construction, and are selected to comple ...
Opening the trunk
• To open the trunk, press the trunk unlock button for more than 1 second on the transmitter (or smart key), press the button on the trunk handle with the smart key in your possession, or inse ...
Auto Light Switch. Repair procedures
Inspection Lighting Switch Inspection With the multi function switch in each position, make sure that continuity exists between the terminals below. If continuity is not as specified, repla ...