Hyundai Sonata: Troubleshooting
Trouble Symptom Charts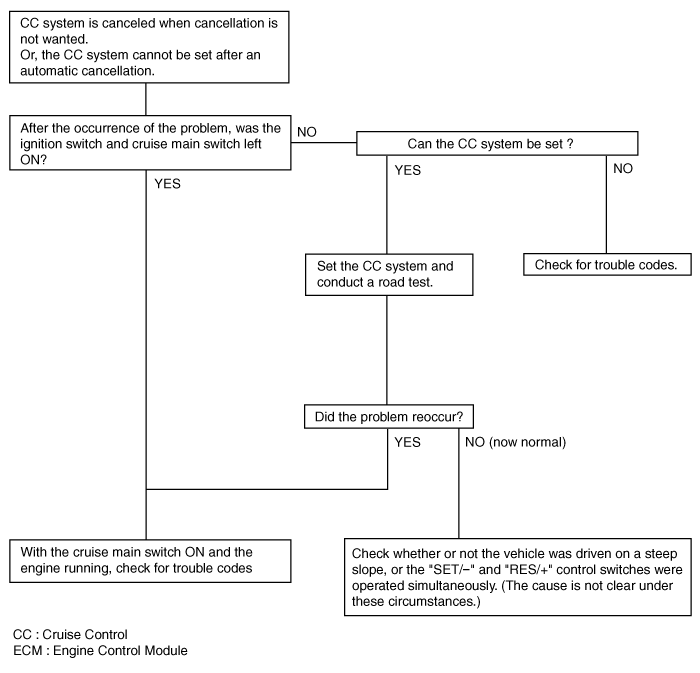 Trouble Symptom 2
Trouble symptom




Probable cause




Remedy




The set vehicle speed varies greatly upward or downward




"Surging" (repeated alternating acceleration and deceleration) occurs after setting




Malfunction of the vehicle speed sensor circuit




Repair the vehicle speed sensor system, or replace the part




Malfunction of ECM




Check input and output signals at ECM



Trouble Symptom 3
Trouble symptom




Probable cause




Remedy




The CC system is not canceled when the brake pedal is depressed




Damaged or disconnected wiring of the brake pedal switch




Repair the harness or replace the brake pedal switch




Malfunction of the ECM signals




Check input and output signals at ECM



Trouble Symptom 4
Trouble symptom




Probable cause




Remedy




The CC system is not canceled when the shift lever is moved to the "N" position (It is canceled, however, when the brake pedal is depressed)




Damaged or disconnected wiring of inhibitor switch input circuit




Repair the harness or repair or replace the inhibitor switch




Improper adjustment of inhibitor switch




Malfunction of the ECM signals




Check input and output signals at ECM



Trouble Symptom 5
Trouble symptom




Probable cause




Remedy




Cannot decelerate (coast) by using the "SET/Ц" switch




Temporary damaged or disconnected wiring of "SET/Ц" switch input circuit




Repair the harness or replace the "SET/Ц" switch




Malfunction of the ECM signals




Check input and output signals at ECM



Trouble Symptom 6
Trouble symptom




Probable cause




Remedy




Cannot accelerate or resume speed by using the "RES/+" switch




Damaged or disconnected wiring, or short circuit, or "RES/+" switch input circuit




Repair the harness or replace the "RES/+" switch




Malfunction of the ECM signals




Check input and output signals at ECM



Trouble Symptom 7
Trouble symptom




Probable cause




Remedy




CC system can be set while driving at a vehicle speed of less than 40km/h (25mph), or there is no automatic cancellation at that speed




Malfunction of the vehicle-speed sensor circuit




Repair the vehicle speed sensor system, or replace the part




Malfunction of the ECM signals




Check input and output signals at ECM



Trouble Symptom 8
Trouble symptom




Probable cause




Remedy




The cruise main switch indicator lamp does not illuminate (But CC system is normal)




Damaged or disconnected bulb of cruise main switch indicator lamp




Repair the harness or replace the part.




Harness damaged or disconnected



Cruise Control The cruise control system is engaged by the cruise "ON/OFF" main switch located on right of steering wheel column. The system has the capability to cruise, coast, ac ...
See also:
All season tires
HYUNDAI specifies all season tires on some models to provide good performance for use all year round, including snowy and icy road conditions. All season tires are identified by ALL SEASON and/or ...
TPMS Receiver. Repair procedures
Replacement When the receiver first arrives for replacement: 1) It will be in Virgin State. ...
Instrument panel illumination
When the vehicleТs parking lights or headlights are on, push the illumination control switch left or right to adjust the brightness of the instrument panel illumination. The illumination in ...