Hyundai Sonata: Schematic Diagrams
System Block Diagram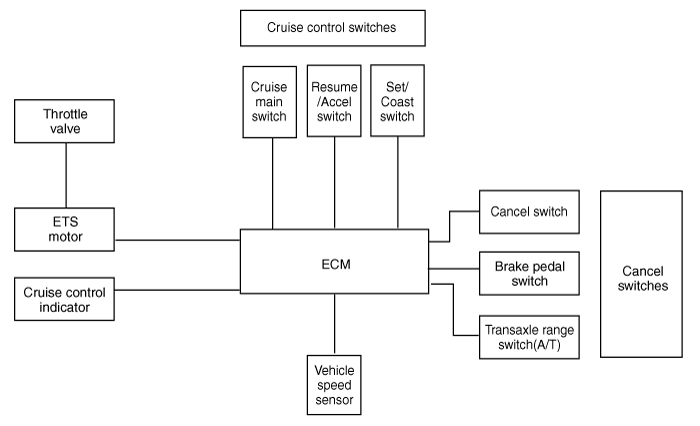 Component Parts And Function Outline
Component part




Function




Vehicle speed sensor




Converts vehicle speed to pulse.




ECM




Receives signals from sensor and control switches.




Cruise control indicator




Illuminate when CRUISE main switch is ON (Built into cluster)




Cruise control switches




ON/OFF switch




Switch for automatic speed control power supply.




Resume/Accel switch




Controls automatic speed control functions by Resume/Accel switch (Set/Coast switch)




Set/Coast switch




Cancel switches




Cancel switch




Sends cancel signals to ECM.




Brake pedal switch




Transaxle range switch (A/T)




ETS motor




Regulates the throttle valve to the set opening by ECM.



* ETS : Electronic Throttle System
Cruise Control The cruise control system is engaged by the cruise "ON/OFF" main switch located on right of steering wheel column. The system has the capability to cruise, coast, ac ...
See also:
Troubleshooting
Troubleshooting 1. The lamp switch inputs can be checked using the GDS. 2. To check the input value of lamp switch, select option "Body Co ...
Timing Chain. Repair procedures
Removal • Use fender covers to avoid damaging painted surfaces. ...
Description and Operation
Limitations Of The Navigation system GPS Signal Reception State As the GPS satellite frequency is received/transmitted in straight lines, reception may not work if hiding devices are placed ...